Today, I woke up only at 11am, got dressed and heard the thunder storms. It rained heavily at Orchard. I kept my fingers crossed on Little India and Chinatown not raining as heavy otherwise my day trip would be ruined...
Unfortunate for me, it was drizzling and gloomy the whole day. Below are photos that I took for the day and I myself am upset with it as it is not what I expected. Blame it on the rain...
Here's Little India...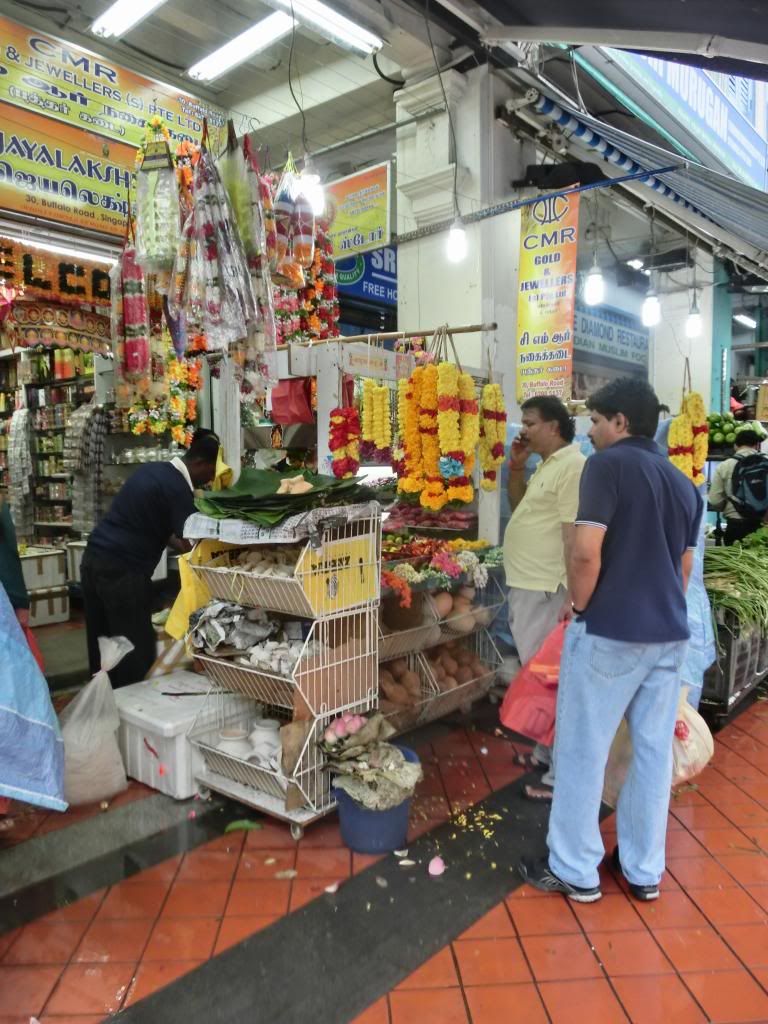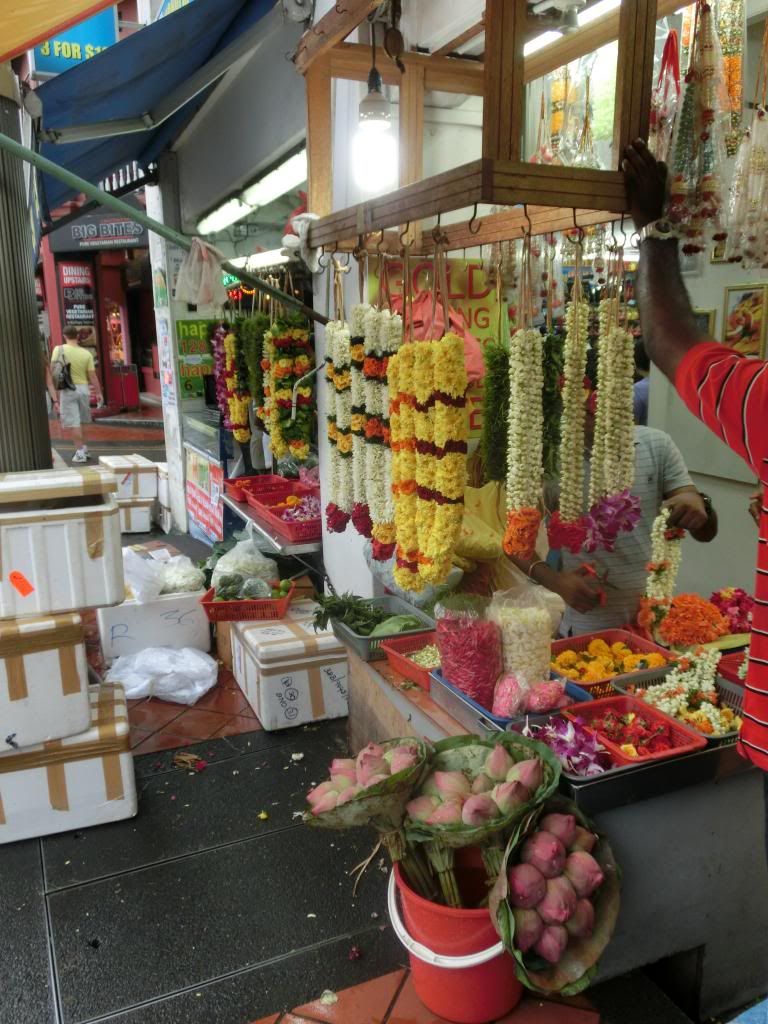 There was a jungle themed restaurant with "zoo keepers" asking passerbys' to go in for meals. It looks cool from the outside, but unfortunately not as attractive for the level above. I did not enter but just pass by...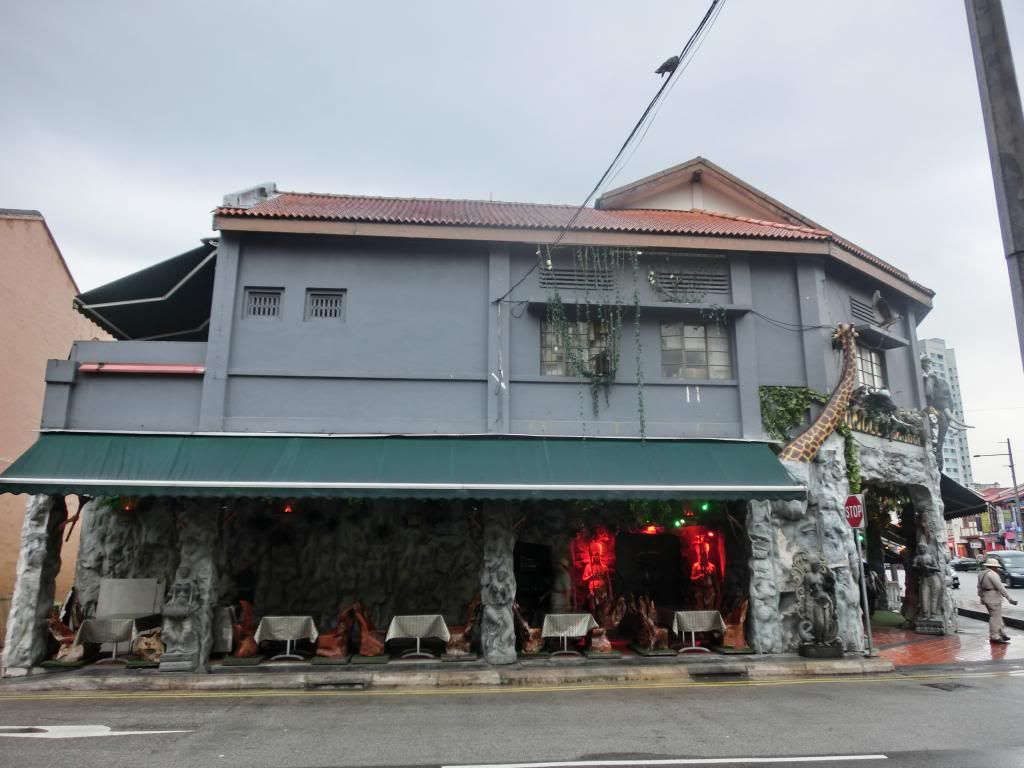 After walking around for a few hours, heading to Mustafa for some shopping, I got some cheap stuff and also a camera stand finally for only $25. It was good enough and not so bulky.
Spent 2 to 3 hours at Little India before heading to China Town. In my book, I was told that the market starts at 5pm. It turns out, my book is outdated. It's open the whole day already since a few years ago. By the time I arrived, due to the rain, some of the shops have started packing already, getting ready for New Year's eve countdown celebration I guess...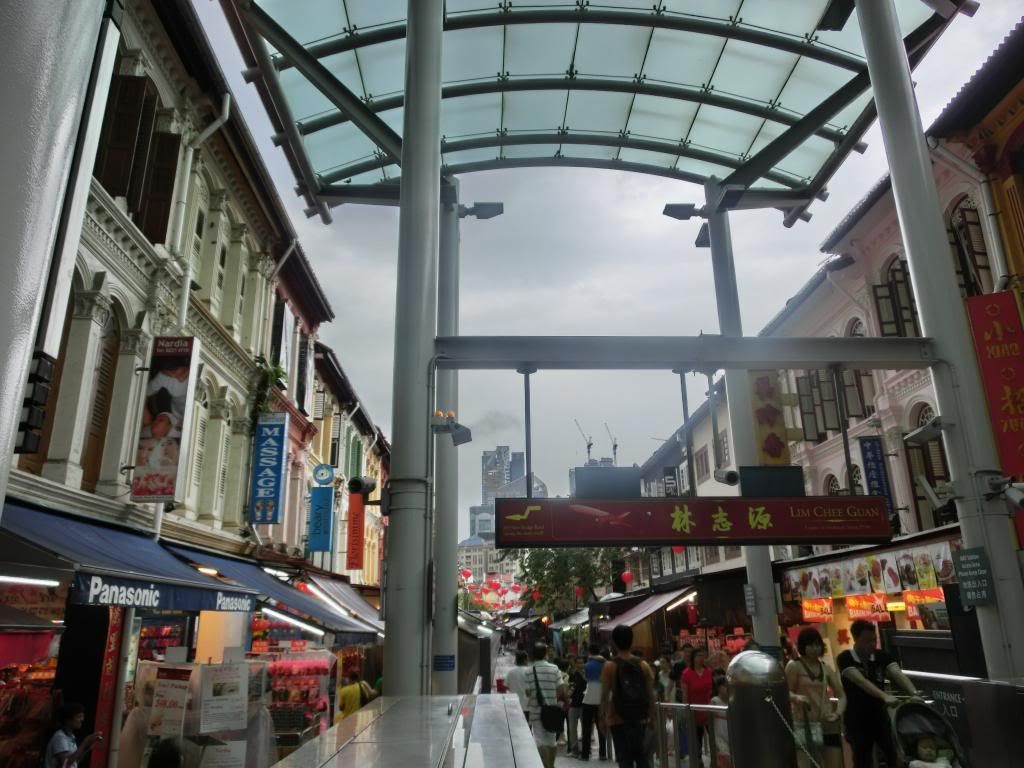 As I walked along the stalls, I bought a few souvenirs for my friends and then walked on to shelter. I saw some uncles sitting around, gathered in one place, playing chess!!! What a sight to see! It's like those scenes you see in movies.
A blurry zoomed in picture of the uncles playing chess...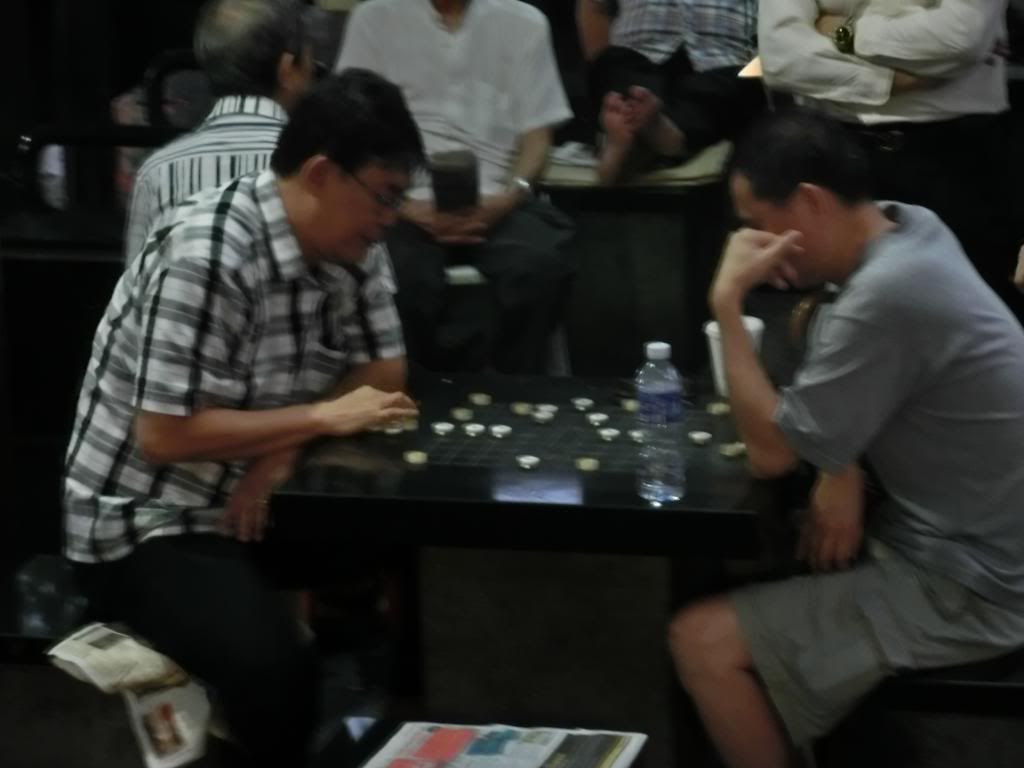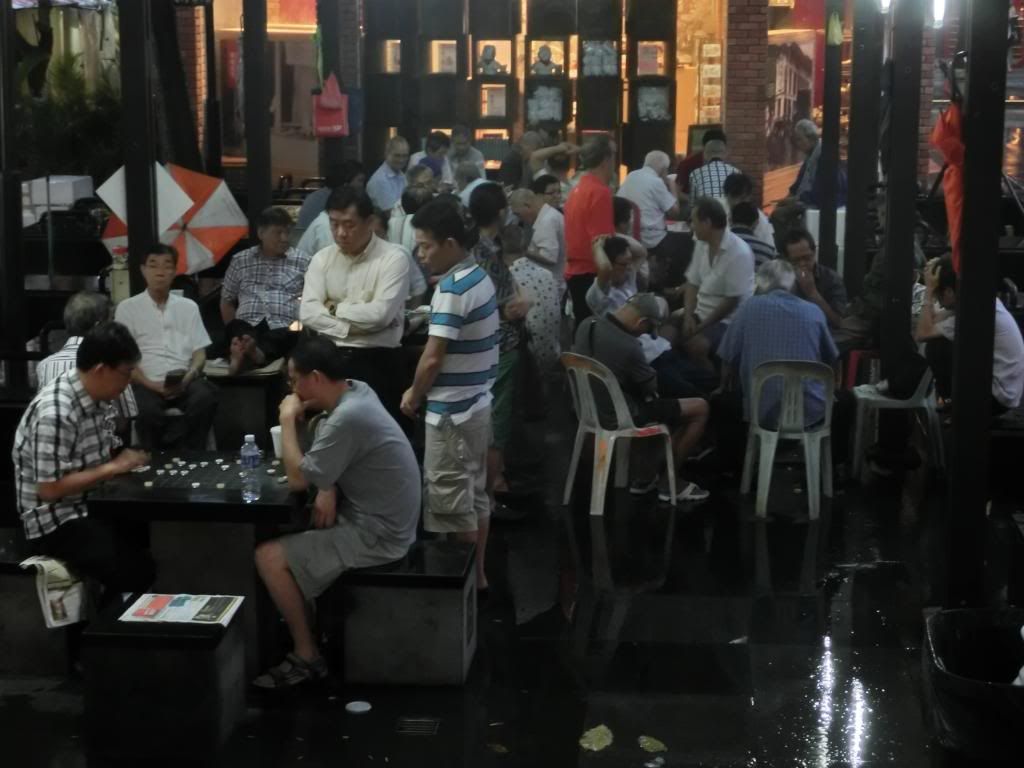 From where I stood, I took this nice picture of the temple and wet floor... ><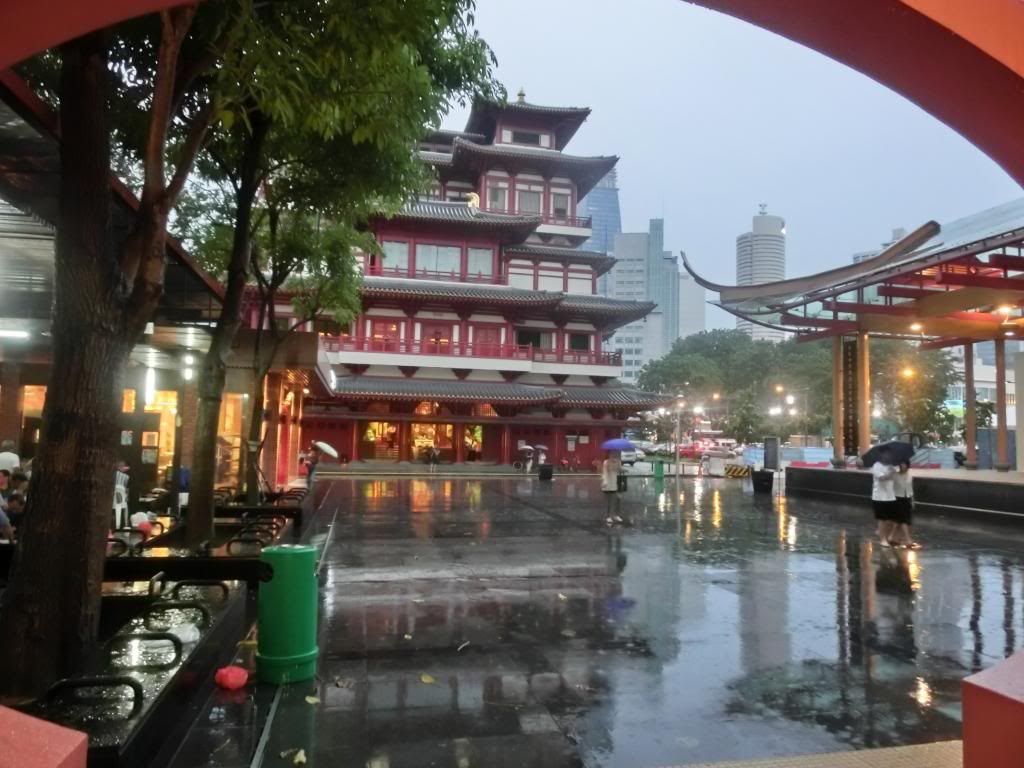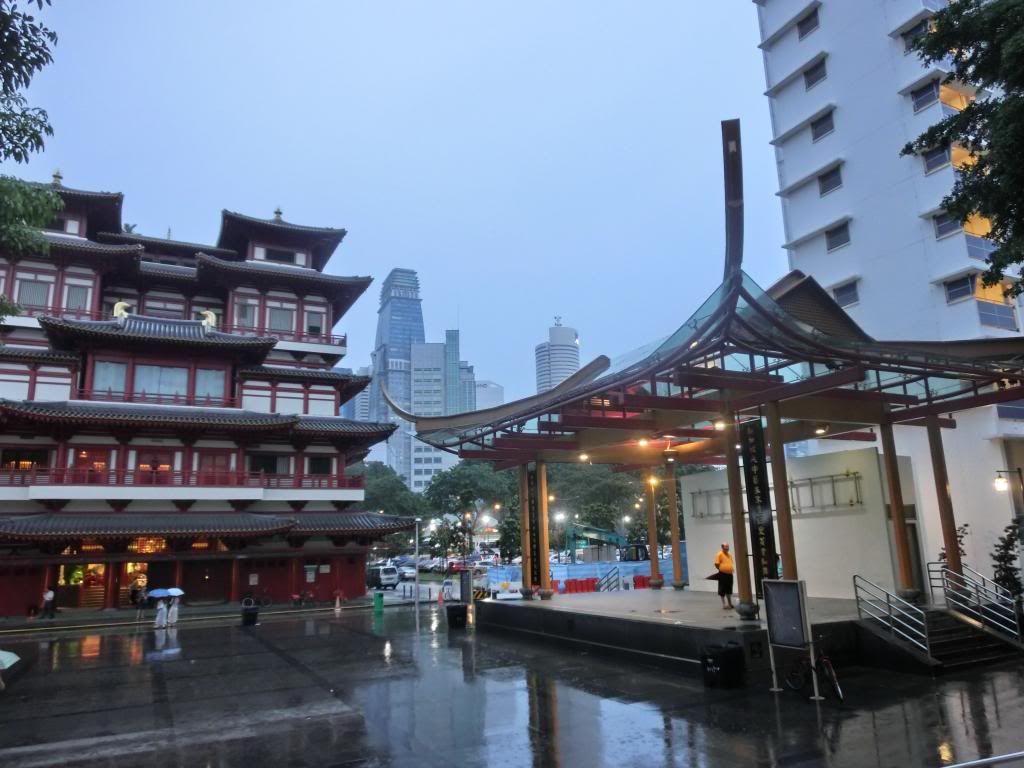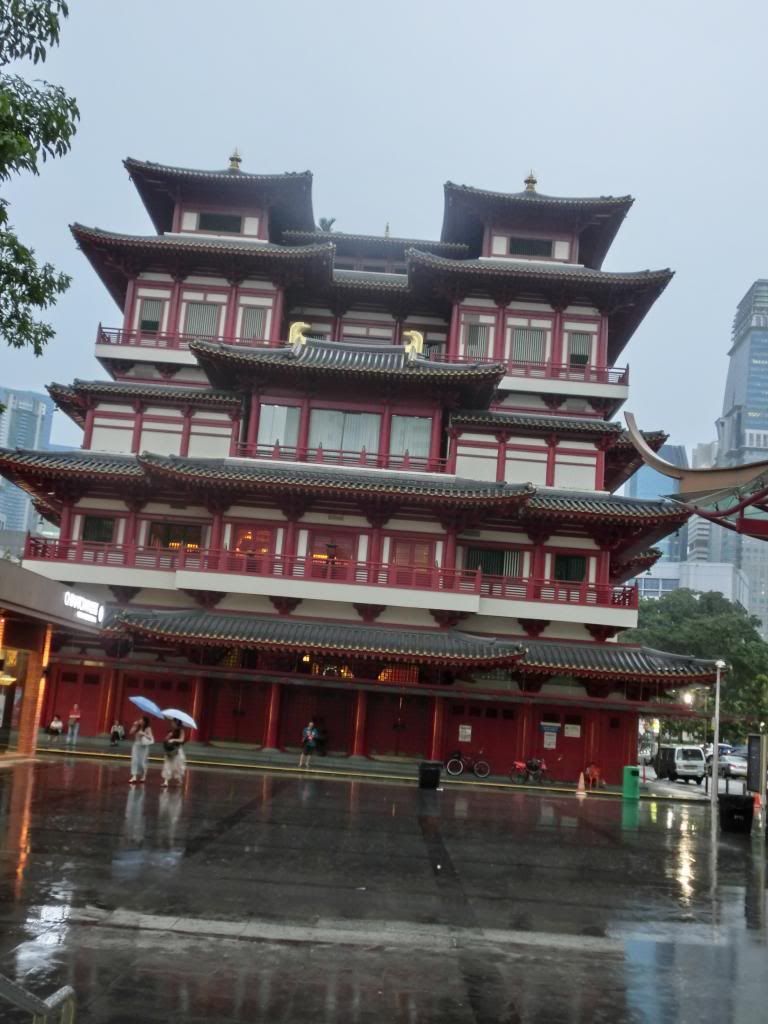 Then, I took a walk at Chinatown Complex and bought some chinese new year angpow wrappers with my surname on it for my mother. This place is indeed very chinese...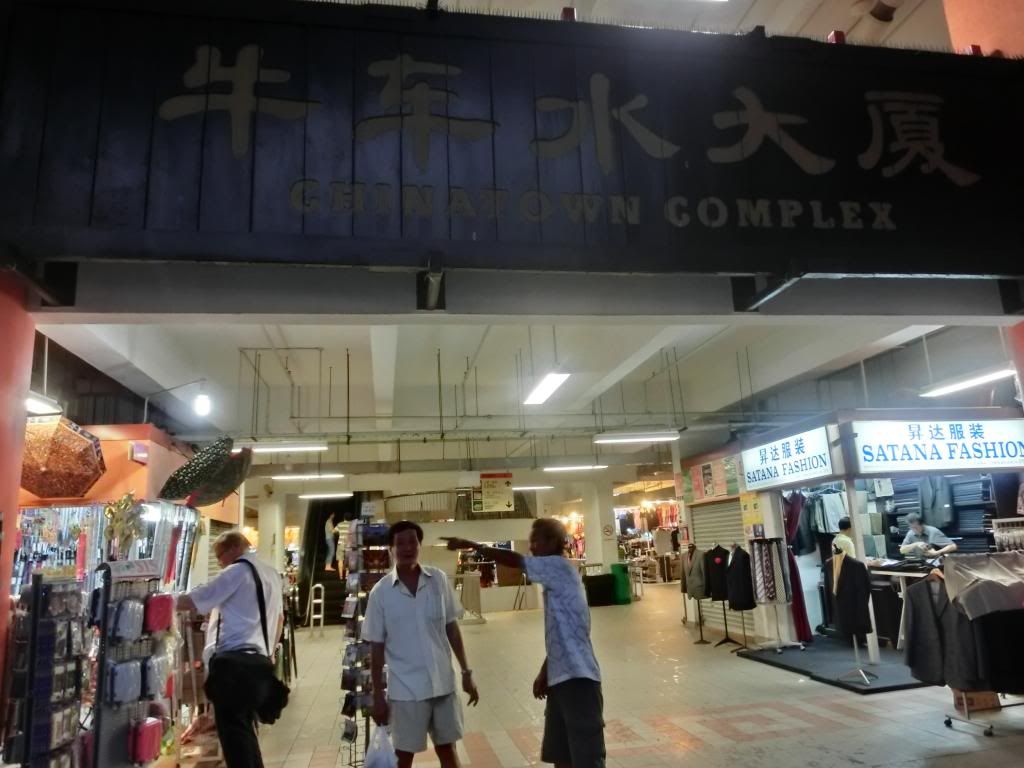 Checked into Foursquare and realized that there's a "Tuck Kee Ipoh" restaurant nearby. I was so surprised to see a Ipoh's delicacy here and went ahead to google map it. Walked past a few nice building such as the Chinatown's famous visitor centre.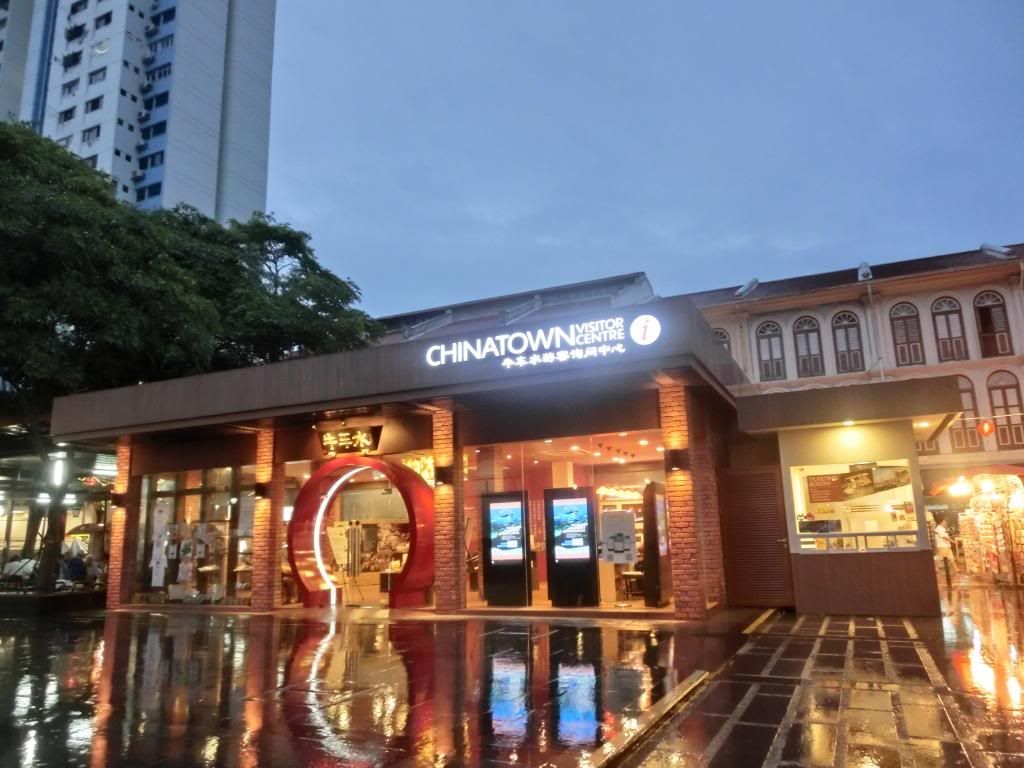 Here's the temple picture from the front.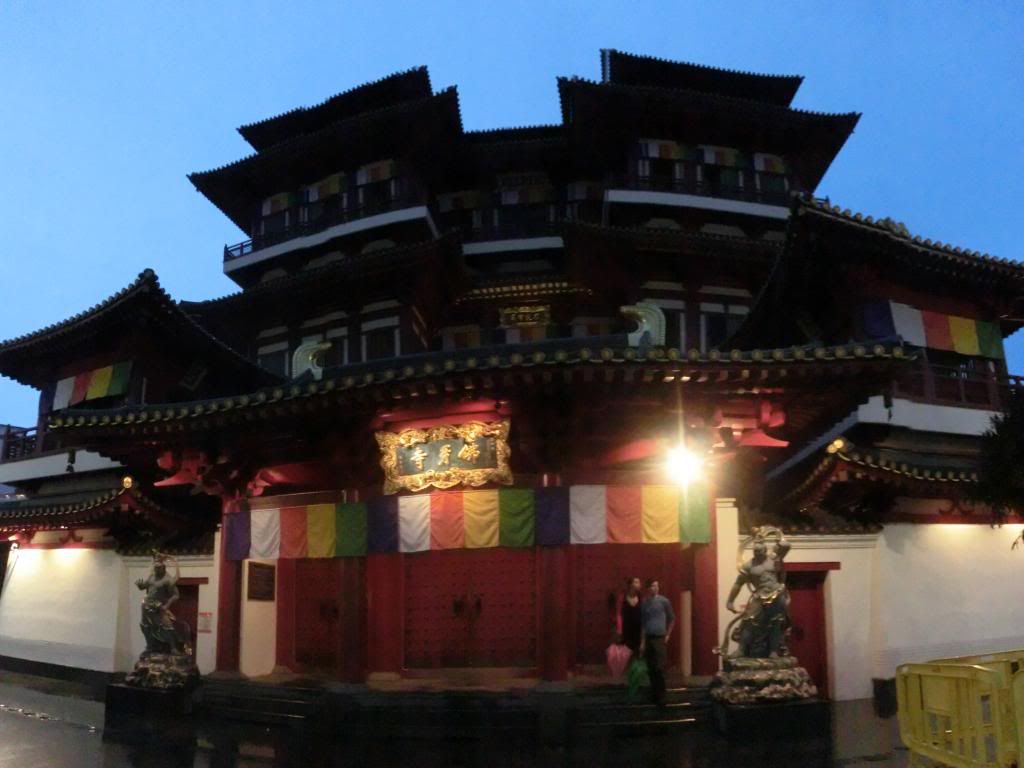 Walked on and passed by a food street...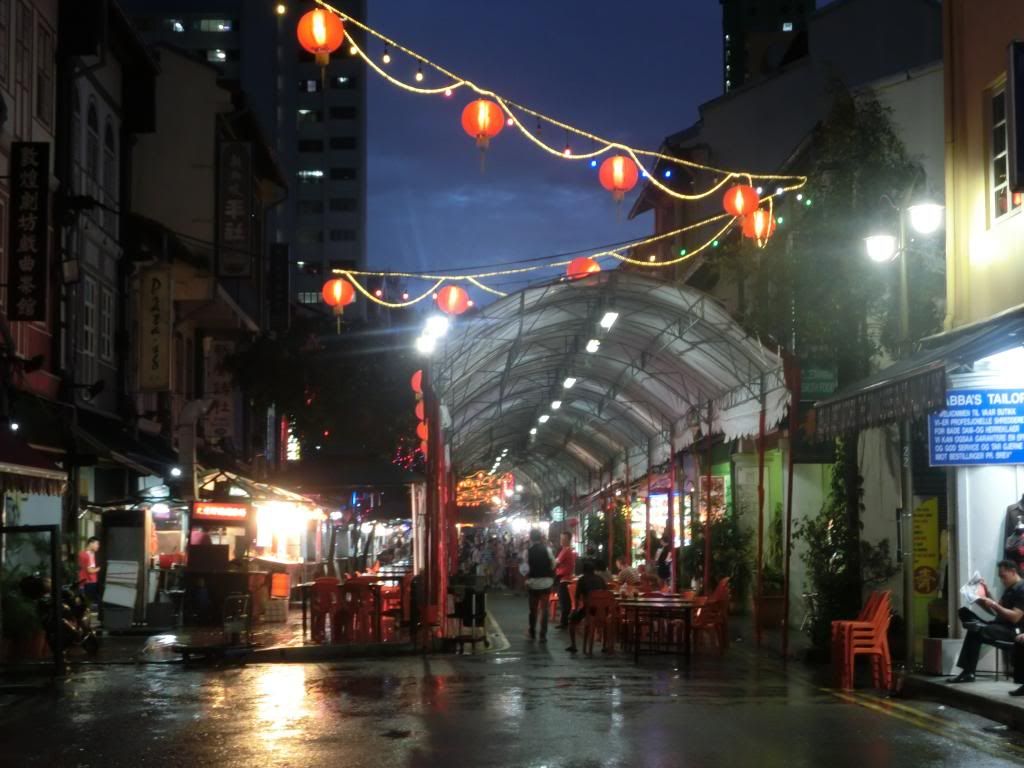 Walked on and passed the Night Market and Heritage Centre. After what seemed like forever, I finally arrived Hong Lim Complex and found the shop I was looking for...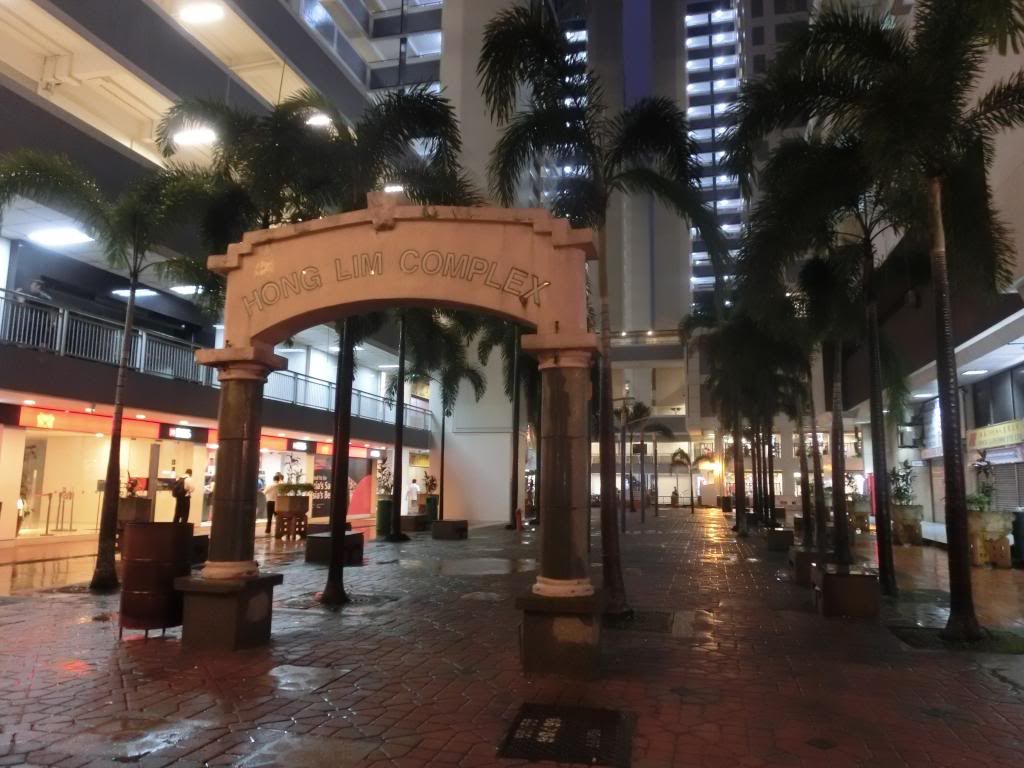 Unfortunately, IT WAS NOT OPEN!!! And also, it's not the kind of food Tuck Kee in Ipoh is famous for! >< Walked so far for nothing...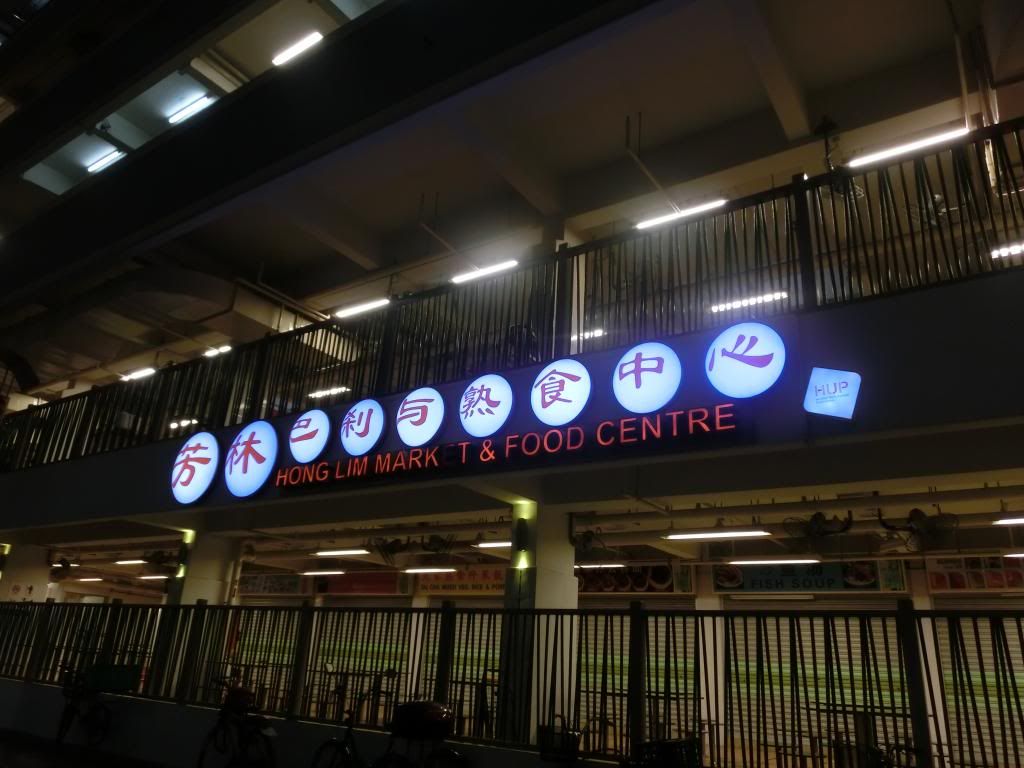 In the end, I googled the nearest MRT Station and found out that actually I was in between Clarke Quay and China Town. Since I was stuck in between, I decided to walk to Clarke Quay and check it out since I am meeting KK, CK and Sophie there tomorrow. However, as I reached Clarke Quay MRT station, I got so tired and instead, took the MRT back to Orchard...
Walked a while at ION and found a high class supermarket just like Cold Storage and bought myself some Somersby, with packaging, 2 apple ciders and 2 pear flavours, which could not be found in Malaysia yet. Their packaging was so cool. It was in a plastic square bag which you could just add ice and water to chill the bottles! Smart. Good for picnics and gatherings!
Sat outside with strong breeze and sounds of the crowd cheering below, on Orchard road. I heard the fireworks going off but the view was blocked as I was at the other side of Singapore. I saw the fireworks on TV and heard the live sounds. It was quite an experience as I enjoyed the night with Somersby and some Lays chips by myself.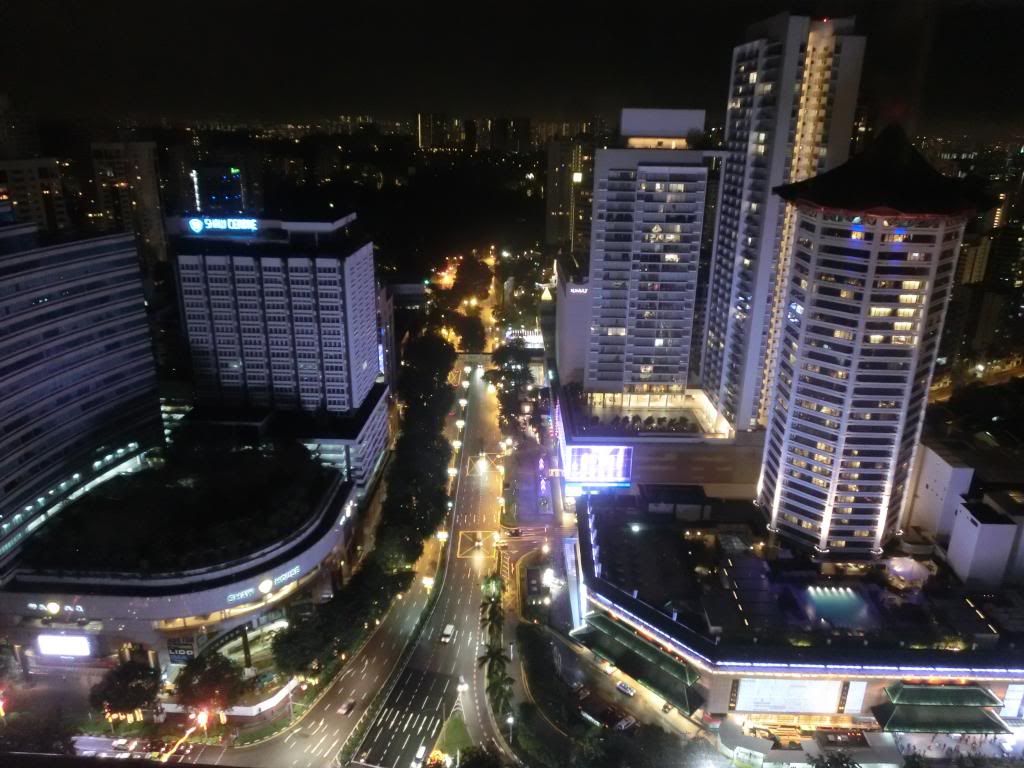 Here's a vlog I did after the countdown...